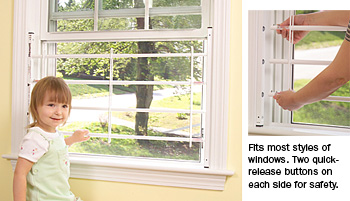 From gothamist.com by Jen Chung:
Yesterday, a toddler fell from a second-floor window in a Brooklyn home; he later died from his injuries.
According to the Daily News
, 3-year-old "Devin Joseph Jr. landed in a cement alleyway after plunging out the window of a three-story home on Westminster Rd. where his parents are temporarily living." The family was living with friends because their home went into foreclosure. A witness said a crowd gathered by the alleyway, "Everybody was just in hysteria. It was really sad," and the News reports, "A safety guard could be seen in the window." And on Monday, a
1-year-old fell to his death
from a second-story Flatbush home's window; WABC 7 says, "According to investigators, Marcus Olivier's mother had just given him a bath and went to get some clothes. He apparently broke through the blinds and fell out the window, hitting the concrete driveway." Mayor Bloomberg said, "The
law requires guards
if you have children and it also requires the managers to ask every year whether or not you need them. If you have a kid, please don't take any risks, we don't need tragedies like this." But the law only requires apartment buildings to have them—not private homes.